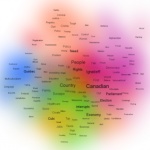 Le débat des chefs offre l'occasion de faire des analyses de contenus très intéressantes. En effet, les politiques des partis et les opinions des chefs sont condensées et distillés à l'extrême. Il est donc possible de brosser un tableau impressionniste des préoccupations canadiennes (ou du moins, celle des chefs). Malheureusement, la transcription du débat francophone n'est pas disponible; alors, l'analyse portera sur le débat anglophone.
The leaders' debate is a golden opportunity to measure the Canadian political landscape as the primary talking points of the leaders and their parties are condensed into a manageable size. Using the transcript of the debate, I used a co-word analysis to try to extract the gist of the debate. I think the resulting maps are interesting and can shed light on current political trends.

(English will follow)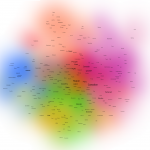 Afin de créer les cartes perceptuelles du débat, un travail de nettoyage a été nécessaire. Premièrement, chaque affirmation des chefs a  été séparée en mots. Ensuite, les mots inutiles (déterminants, verbes courants, etc.) ont été éliminés. Puis, une matrice de cooccurrences des mots a été calculée. À partir de cette matrice, des groupements (les couleurs sur la carte) et la position des mots (selon leur proximité à d'autres mots dans les déclarations des chefs)  ont été calculés à l'aide du logiciel VosViewer. Le résultat est un distillat du débat anglophone sous forme graphique.
Un coup d'oeil rapide nous permet d'identifier les préoccupations du Québec (à gauche en bleu), celles liées au crime (en haut en orangé) ou celles liées à l'économie (en bas en jaune et vert). L'analyse du réseau est également intéressante. Elle permet de visualiser les mots clés souvent utilisés dans la même affirmation ou le même contexte.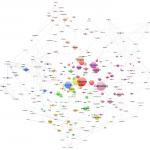 To create the maps, a preliminary cleaning of the raw dataset was necessary. Every line in the transcript was split into individual words. After that, noise words (e.g.: for, the, as…) were removed from the data as their presence only obscured relevant words and would clutter the map unnecessarily A co-word matrix was calculated from this list of words and then VosViewer data visualization software was used to calculate clusters (colors shown on the map) and word position (dependent on the proximity of words from other words in the data set).
From the computed map, major Canadian policy themes are visible. In blue, on the left, we can see Duceppe's main talking points. In orange, near the  top of the map, law and order preoccupations are visible. At the bottom, in yellow and green, we can see all the words linked to the economy. I also generated a network graph in which the links between words belonging to the same theme thematic are very evident.